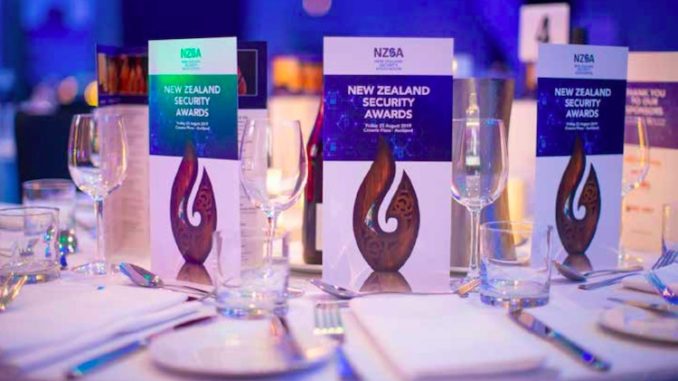 The NZSA is expecting a bumper number of nominations for this year's awards, writes judging panellist Nicholas Dynon. Putting the effort into a compliant and high quality nomination is key.
Awards season has officially started! Nominations are now open for the 2020 New Zealand Security Industry Awards, which this year will culminate in a live streamed virtual event in lieu of the traditional gala awards dinner.
In addition to the Covid-induced change of format for the awards night this year sees several changes to the awards category line-up. The 18 categories featuring in the 2019 awards have been increased to 20 as the result of the culling of one category, the addition of two new categories, and the splitting of another category into two.
New to 2020
The 'Security Specialist of the Year' award is no more. This catch-all category had recognised "excellence, commitment and professionalism within the industry sectors not already covered within the other award categories." Assuming it doesn't make a future comeback, 2019 winner Graeme McKenzie of Alarm Watch can lay claim to being this award's last-ever recipient.
Replacing that award are two new categories: 'Cash Services Professional of the Year' and 'Customer Champion of the Year'.
According to the NZSA website, the new Cash Services Professional category "recognises the excellence, commitment and professionalism of those working within the Cash Services sector and including those involved in providing cash-in-transit and cash-floor services."
The new Customer Champion category is focused squarely on Business Development Managers, Sales Consultants and Sales Managers, and its inclusion is perhaps intended to resolve previous concerns raised around individuals in these roles being nominated (and winning) in the Security Consultant category.
If this is the intention, then the addition of this category may go only part-way to resolving what have been quite polarised debates around the Security Consultant category. Specifically, the criteria wording for the consultant category doesn't appear to preclude people who consult as part of their BDM/Sales role from being nominated in that category (in addition to the customer champion category).
It might be useful if the wording of the Security Consultant category criteria were tightened to specify whether it captures only 'independent' security consultants or the broader range of roles for which one is required to hold a security consultant license/CoA.
Ultimately, whether or not these new categories are an improvement will be determined by the number and quality of nominations received.
The other category change in this year's line-up is the splitting of the 'Install and Service Electronic Sector – Technician of the Year' into (i) a 'Corporate' category specific to employees of companies employing more than five technicians; and (ii) an 'SME' category specific to those from SMEs with five or less technicians in their employment.
Given that awardees in the Install and Service category have in recent years tended to come from companies that fall into the 'corporate' group, increased recognition of smaller operators is probably a good thing.
In terms of the judging panel there is no change from last year. The panel again includes esteemed members Ngaire Kelaher (ASIS New Zealand), David Tomoana (ANZ Bank) and Gary Morrison (NZSA), and myself.
Enjoying this article? Consider a subscription to the print edition of New Zealand Security Magazine.
Aim for excellence
Having been on the panel on three occasions, I tend to find myself on the one-hand inspired by the many impressive nominations I get to see, yet on the other hand disheartened to see many impressive nominees miss out due to non-compliant or poorly constructed nominations.
If you've taken the effort to identify a colleague for nomination, then it's important that you make that nomination count. As a starting point, I recommend that you read the tips on the NZSA website's Nomination Information page.
According to the NZSA, it's important that your nomination is fully compliant with the Conditions of Entry (Terms and Conditions). If you don't know what these are, find out.
Directly address each of the "recognition" requirements specified in the category criteria in a clear and concise manner. For example, the Security Officer of the Year category criteria includes the following requirements:
Excellence, commitment and professionalism within the "guarding" sector
Service to customers and outstanding acts
Going beyond what can reasonably be expected in providing a level of service that exceeds customers and/or managers expectations.
Inspires others and sets incredibly high standards.
The NZSA recommends that responses to each of the recognition requirements be addressed individually, in the order listed within the Category Criteria (with the use of headings or bullet points to ensure they are easy to follow), and as clearly and concisely as possible.
In order to systematically and fairly assess nominations, the judges award points in relation to each of the specified recognition requirements. It is therefore very important that each one is responded to.
It's also important to demonstrate exactly how a nominee meets each of the recognition requirements by way of specific examples, stories and references. These can be supported by attachments to the nomination. Note that the Testimonial field on the online nomination form allows for a maximum of only 1,201 characters and that there is a limit on attachments (two documents with a maximum file size of 5MB).
Stay on message. Take care to avoid getting side-tracked with superfluous or unnecessary information and detail. None of the categories require the nominee to enjoy footy or boating in their spare time.
Avoid making hyperbolic statements about the nominee without associated evidence. If your customer champion nominee is indeed "viewed as providing a substantial and quantifiable benefit to the customers business operations", then how so? What are some specific examples of the quantifiable benefits your nominee has provided?
I also concur with the NZSA's recommendation that you get your nomination proof read by a third party prior to it being submitted, ensuring that it reads well, addresses all of the category criteria and effectively 'sells' the merits of the nominee. This is critically important – a second pair of eyes can make all the difference.
Make sure your nomination is prepared and submitted well in advance of the close off date (5pm on Friday 10th July). Late entries are not accepted!
And lastly, if you haven't nominated someone for an award previously, have a go! There are a lot of unsung heroes out there worthy of our collective recognition.