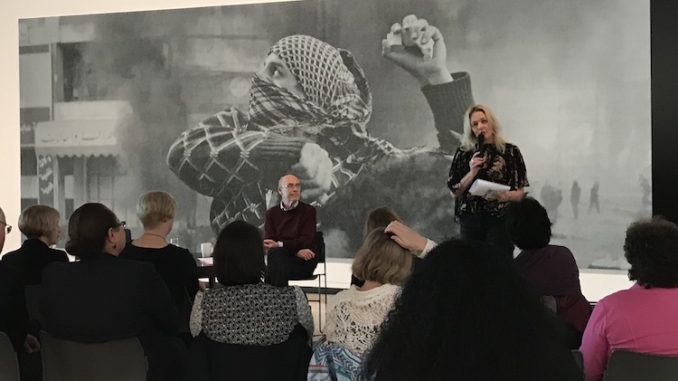 National Security Workforce Senior Advisor Navlene Singh writes that a new New Zealand government-led programme is opening up opportunities for women in the National Security sector.
Launched earlier this year, the Women in National Security Mentoring Programme was developed by the National Security Workforce (NSW) team within the Department of the Prime Minister and Cabinet (DPMC).
The NSW team is club-funded by the Security and Intelligence Board (SIB), a board of eleven national security chief executives, such as Police, Defence and DPMC, which has assigned four priority areas to be addressed by the team.
The new mentoring programme supports Priority One: to attract and retain the right mix of knowledge, skills and capabilities for current and future priorities and demands.
Although the common perception of the NSW may be one that is male dominated, women actually make up 43 percent of this workforce, with one-third at 34 years of age or younger.
Many of these women, however, report feelings of isolation, lack of confidence, being targets of conscious and unconscious bias and having a shortage of female role models in leadership positions in their sector.
Mentoring was chosen as an approach to address these issues as research indicates that close to 80 percent of millennials believe that mentoring is a critical part of career development. Initiatives such as the programme are important for building a strong sense of community and belonging in the workforce.
When gauging their interest in the programme, potential mentees in both Auckland and Wellington identified five areas where they wanted a mentor's assistance:
help build confidence
help balance career and family
help navigate their way through male dominated environments
help with career progression, and
provide access and introductions to broader networks.
The programme was deliberately designed to help mentees address the challenges faced, through one-to-one mentoring conversations, targeted learning conversations and table topics.
Prime Minister, and the Minister for National Security and Intelligence, Rt Hon Jacinda Ardern, officially announced the Wellington programme on 27 February 2018, at the NSW Showcase.
The Showcase generated substantial visibility for the programme, as 400 people across the national security sector were present at the showcase.
The official programme launch was an information session held shortly after the showcase, with potential mentees having the opportunity to hear more about what the programme offers.
Numbers exceeded expectations, indicating that there is clear demand for a programme of this kind, with over 100 mentees attending the information sessions, and over 90 signing up soon afterwards.
Enjoying this article? Consider a subscription to the print edition of Line of Defence Magazine.
Two parallel information sessions also were run for mentors, which attracted 140 people across each gathering, and had 100 signing up as mentors.
The Auckland programme followed a few months later, also attracting a large number of mentees and mentors (over 100 mentees and mentors combined signed up).
Mentees and mentors first came together at speed networking events, held in both Wellington and Auckland, which gave the cohorts an opportunity to meet and socialise.
After a few rounds of 'speed dating' type conversations, mentees submitted their top five mentor preferences for consideration. The mentor-mentee matching process took place promptly after the event.
Mentees were given a choice of mentors to choose from, either from those that they met during the speed networking event or from the mentor profile book. Mentors sourced were both cleared and un-cleared (security clearance), male and female, and represented both the public and private sectors.
All offered skills and experiences that could assist mentees in the five areas that they identified.
Learning conversations for mentors were also developed to provide mentors training and support on how to maximise their relationship with their mentee.
While the mentee learning conversations are structured around enriching their careers, the mentor learning conversations are focused around helping elevate their relationship with their mentee.
As part of the programme, a thought-provoking mentor learning conversation took place on Suffrage Day (19 September), when the NSW team hosted the cohort at Wellington's City Gallery.
Mentors were asked to walk through an exhibition, 'Iconography of Revolt', which contained a number of confronting images about how protest and revolt have been displayed in art. After the walk through, mentors discussed how our biases are shaped by our experiences, and how these assumptions impact interactions with individuals and cultures.
This setting was chosen because so many mentees in the programme have their world shaped by the images on display. Mentee learning conversations, on the other hand, offered the group practical tips and resources to assist with their development.
Wellington mentees have now experienced two learning conversations: 'Your leadership Brand' and 'Getting the most out of your career', with two more to go. The Auckland programme, which lags three months behind, will also feature these conversations.
The sessions have featured conversations from government chief executives, including New Zealand Security and Intelligence Service Director-General (and programme patron), Rebecca Kitteridge, Acting Chief Executive for the Ministry for Culture and Heritage, Renee Graham, Oranga Tamariki Chief Executive Gráinne Moss, and Ministry for Pacific Peoples Chief Executive, Laulu Mac Leauanae.
These learning conversations are supplemented by table topics, smaller sessions that delve into areas that were of interest to mentees.
One such session was designed around Imposter Syndrome, which was delivered to them in a seminar by motivational coach Jess Stuart. These sessions also give mentees an opportunity to network and reflect on their experiences in the programme to date.
The final session of 2018 for the Wellington programme was an end of year mentoring event, where both mentors and mentees convened at Parliament to celebrate the successes of the programme to date.
In addition to having the opportunity to network and reflect on experiences in the programme so far, the cohort were also given the opportunity to hear from an esteemed panel, which included the Prime Minister's Chief Science Advisor, Professor Juliet Gerrard, Chief Executive of the Department of Internal Affairs, Paul James, and Associate Dean at Victoria University, Dr Anita Brady.
Since the programme's launch, the feedback has been overwhelming positive, which has validated how necessary this programme is for women in the National Security sector.
"The vision, approach and content of the programme is outstanding, particularly in creating a formal platform for all interested diverse women in the sector to come together. I highly recommend this programme as an excellent catalyst to attract more women into the sector from entry to leadership levels," one Wellington mentee said about her experience in the programme.
"I am incredibly thankful to be involved in the Women in National Security Mentoring programme, and I feel that my mentor and I are a great match… after each meeting I walk away feeling empowered, positive, and confident," said another Wellington mentee.
Work completed to date on the programme was also recognised in the inaugural DPMC Chief Executive's Excellence Awards.
Awarded on Public Service Day, the award recognised the programme for delivering a product for people to make a difference to their capability, and demonstrating the DPMC values in the process.
The first intake of mentors and mentees will complete the 12-month programme towards the middle of next year. Given the overwhelming response received, plans to introduce intake two are already underway for early 2019.