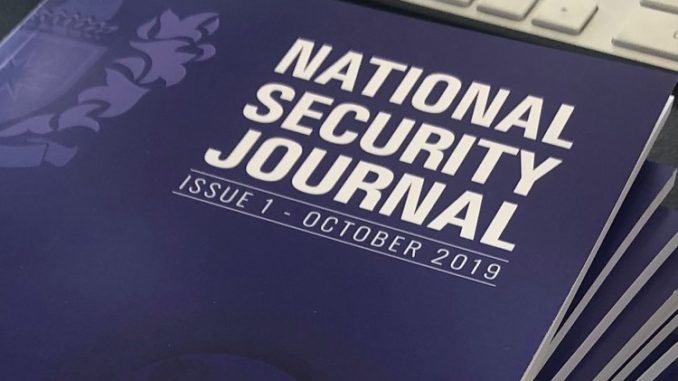 Defsec's Chief Editor Nicholas Dynon speaks at the official launch of the new Massey University published National Security Journal in October 2019.
I'm honoured to be able to say a few words about this fantastic new publication, National Security Journal. 
Comparatively New Zealand tends to talk 'less' about national security.
Compared to our five eyes partners we seem to talk less about it; compared to those who challenge the international rules-based order we seem to talk less about it. Indeed, as Chris Rothery points out in his article for the Journal, we don't even have a published national security strategy in the public domain.
We do talk about certain elements of national security a lot – civil defence, climate change, biosecurity, measles outbreaks – but we don't tend to view these through a national security lens…
Everyone knows they need to 'drop, cover and hold' in the case of an earthquake, but what about the mantras 'if you see something say something' in the case of a suspicious package; or 'locks, lights, out of sight' in the case of an active shooter lockdown?
Tragically, though, 'lockdown' has made some inroads into our lexicon since March 15 and the mosque attacks that took us by surprise.
Wicked problems
Like global warming, rising sea levels and world poverty, the complex inter-related economic, social, cultural and political factors that give rise to contemporary acts of terrorist violence constitute what have been intriguingly described as "wicked problems".
Wicked problems are said to be complex and intractable, with no clear relationship between cause and effect. Solutions to them are neither right nor wrong. There is no clear answer.
In the wake of March 15, security managers around the country have been presented by their employers with a wicked problem:
"How do we make our venue, which is accessible by large numbers of people on a predictable basis, secure against the extremely unlikely possibility of a terrorist attack? And how do we do it cheaply?"
Ultimately, wicked problems are problems for which there is the great practical reality of there being no hope of a solution. But, importantly, they are problems for which there is a great moral expectation that a damn good attempt at a solution is made. The New Zealand public, for example, justifiably expects that 'something be done' to minimise our collective vulnerability to another mass casualty weapons attack.
The Journal's Managing Editor, Dr John Battersby has recently written that such issues, and the potential solutions to them, cannot be hidden behind walls of classified information.  "Moreover," he writes, "governments do not have solutions to these problems and will not find them without a broader participation of expert and interested sections of our society."  
Aims of NSJ – private sector
The new Journal's aim of encouraging debate, discussion, interaction, problem-sharing and problem-solving between the government sector security agencies, universities, NGOs and private sector organisations is a noble one.
The private security sector currently has no seat at New Zealand's national security table. It does not factor, for example, in our National Security System. Yet. as I highlight in my article for the Journal, decades of privatisation of public space – of the very spaces now used by fixated persons and terrorists as the venues for their attacks – and privatisation of many public policing roles, make the argument for increased public-private cooperation in counter terror planning compelling.
Our national private security guard population, for example, outnumbers our total police numbers by 2 to 1, and they surveil and secure the country's shopping malls, tourist spots, event venues – places where people choose to congregate. Private Security Consultants are specialists in security risk management, many of them ex-military, ex-police, many having international experience and holding internationally recognised security qualifications, many damn good at what they do.
And while we're on the topic of security consultants, let's move the conversation beyond Southern Response.
On the topic of security guards, let's move the conversation beyond bar security chokeholds and bottom-feeding providers.
Let's talk, for example, about the estimated 2,500 additional security guards that the America's Cup, APEC and Amazon's film productions will all be fighting for in 2020-21. The potential demand is unprecedented and far outstrips anything before it, including RWC 2011 and APEC 1999.
On this front, I note the New Zealand Security Association taking a leadership role in engaging with MBIE on Government Procurement Rules to increase the private security sector's value proposition. I am also excited by the fledgling New Zealand Security Sector Network and its endeavours to bring industry and professional peak bodies from across the physical, personnel and information security domains together to better engage with the state and the community on matters of security significance.
New Zealand lags behind comparable jurisdictions in developing the structures and protocols for proper public-private partnership in security, and we should probably get a wriggle on. The National Security Journal is a fantastic vehicle for enhanced discussion between government and the private sector about such topics, and for this reason alone it is to be celebrated.